Gabon Military government has appointed former opposition leader as the interim Prime Minister.
The military government appointed 68 years old Raymond Ndong Sima who is an old economist as the head of the interim government
It should be noted that Gabon military government seized power in a coup last week. The coup removed the president Ali Bongo on August 30th 2023.
Sima served as former president Ali Bongo's prime minister from 2012 to 2014. In 2016, contested against Ali Bongo and was part of the opposition coalition this year.
His appointment was announced on state television on Thursday in a decree by General Brice Oligui Nguema. General Nguema was in as interim President on Monday.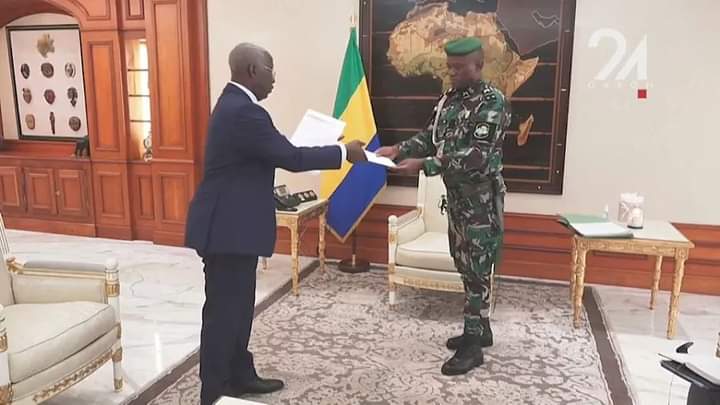 In his inaugural speech, general Brice Oligui Nguema promised to conduct a free and fair election to restore civilian rule in Gabon. But he did not say the time for the election.
Overthrown president Ali Bongo has been in power since 2009. Bongo had succeeded his father Omar Bongo who ruled the Central African oil producing country for 42 years.
Nevertheless, the Bongo family's dynastic rule had created widespread disapproval, with critics saying the Bongos did little to share Gabon's wealth with its 2.3 million people.
adsense
Meanwhile, the military coup was greeted with episodes of jubilation in the Gabon capital of Libreville. Also, the military government went quickly to consolidate power and sworn in General Brice Oligui Nguema as interim president on Monday.
However, army officers read a decree on state television on Thursday announcing that Raymond Ndong Sima had been named prime minister.
Interim prime minister, Nguema, has promised economic reforms and said he will organize free and fair elections, though he has not given the time.
Notwithstanding, Abdou Abarry, the special representative of the United Nation secretary-general in Central Africa, met Nguema in Libreville on Wednesday and told him that the UN would assist the country as it made a new start.
However, it was revealed that the main reason Raymond Ndong Sima was made the interim prime minister is that he is a renowned economist. And also an outspoken critic of President Ali Bong.
12 Simple Steps To Increase Organic Traffic To Website
Easiest Tips To Verify Your Site With Google Search Console
See What Happened To Migrants Tunisian Authority Drove Into Sahara Desert
Source: Aljazeera News