Following the emergence of Senator Ahmed Bola Tinubu of the All Progressive Congress Party [APC] as the president of Nigeria, there has been a lot of chaos and disarray in in the country from different angles.
While many have been pointing accusing fingers on the chairman of the Independent National Electoral commission Prof. Mahmood Yakubu, many have been faulting the outgoing ruling team, others are seeing it as oppression of the ruling class against the masses. yet some especially APC loyalists are insisting that it is a merited crown.
In fact, the whole nation of Nigeria has been boiling with anger. Percieved anger from the majority of the people who are alleging that their votes did not count. Instead, another president was imposed on them.
As a results of all these, many Nigerians have been calling for cancellation and conducting of fresh election, removal of INEC chairman and withdrawal of Sen. Tinubu as the president.
Amidst all these chaos, Nigerians woke up on the 2nd of February 2023 to a congratulatory massage from the Ukrainian president, Volodymyr Zelensky.
Below is the congratulatory massage of Mr. Volodymyr Zelensky to Sen. Ahmed Bola Tinubu: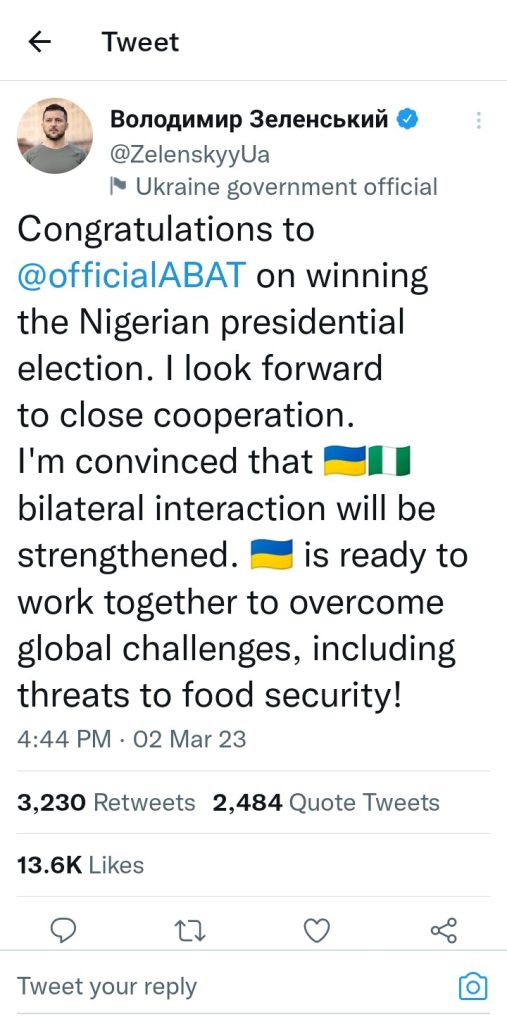 In what can be termed as a transferred aggression, some Nigerians who are yet to come in terms with the emergence of Sen. Tinubu as the Nigerian president took to their Twitter handle to descend on Mr. Volodymyr Zelensky.
Some of the replies include;
adsense