The Detroit police has confirmed the three bodies found in an abandoned apartment on February 2nd 2023 are those of three missing rappers.
It should be recalled that three rappers from Michigan were declared missing on January 21st 2023. The rappers identified as Armani Kelly, Montoya Givens and Dante Wicker went missing on the night of their canceled performance at a birthday party at Lounge 31.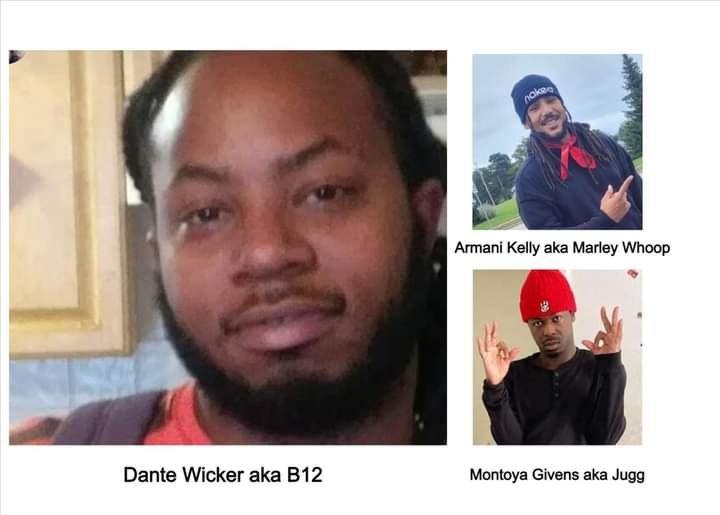 Michael McGinnis, commander of major crimes said earlier in January around the time of the disappearance of the rappers that;
It's our understanding that the performance got cancelled. And from there we had a lot of unanswered questions we are trying to find out.

All of their phones stopped having activities by the early morning hours of January 22nd.

The mother of one of the victims the next day made a report of the missing person. She became proactive in the investigation and started searching his vehicle through OnStar.

The mom found the car in Warren, Michigan where authorities recovered the car on January 23rd.

By January 27, information about Kelly's disappearance was spreading throughout the media.

Family members of other two missing boys realized it was the friend of their sons whom they have not seen. So they got them reported missing.
Armani Kelly whose stage name was Marley Whoop was 28 years old. Montayo Givens whose stage m=name was Jugg was 31 years old. While Dante Wicker whose stage name was B12 was also 31 years old.
Kelly's mom, Lorrie Kemp had posted flyers all over Lansing where Kelly grew up in an attempt to find her son.
Nearly two weeks after the rappers went missing, search for the missing rappers led police to an abandoned rat infested apartment at Highland Park.
According to police, the bodies were found under mounds of debris inside the basement.
Although police did not confirm the identities of the bodies immediately, three Detroit police sources said they believed the bodies are the missing rappers.
According to New York Post, Kelly's fiancee said Kelly told her on the night of the incident that the performance has been cancelled due to technical issues. And that he planned to hang out with two friends to find some open mic events. That was the exact point he picked up Wicker and Givens same evening.
According to Kelly's partner, she could not reach Kelly from 7.30pm after several texts and calls.
Nevertheless, police had found a 15 years old boy riding Kelly's car [ 2017 Model Chevrolet Equinox ] on the road without any license plate.
The 15 years when taken into custody told police that a man advised him to pick up the car from a location on Detroit West side. after going through his interactions with the man, police saw that the man had a warrant involving alleged fraud.
His home was searched and he was taken for questioning. Also, his surveillance footage of a man cleaning the Equinox while wearing gloves were recovered.
Read Also: Rescue Team Searches For Survivors, More Countries Offer Helps As Worst Earthquake Claims Over 1800 Lives
Tears As Mother OF three Reveals Why She Regrets Ever Going For Divorce
See What Tanzanian President Did To Fisherman That Rescued Lake Victoria Plane Crash
Sources: NBC News, CNN, Lion Eye News, ABC 7 Chicago, Jim Fleenor facebook page, ABC News, TheGrio.
adsense