Juan Carlos is the former king of Spain. He is 84 years old. Carlos lives in the United Arab Emirates (UAE).
Today, Juan Carlos, the former king of Spain is appealing in row with former lover, Corinna zu Sayn-Wittgenstein.
Former King Juan Carlos is seeking legal immunity in a United Kingdom Appeal Court over harassment claims brought by his ex-girlfriend, Corinna zu Sayn-Wittgenstein.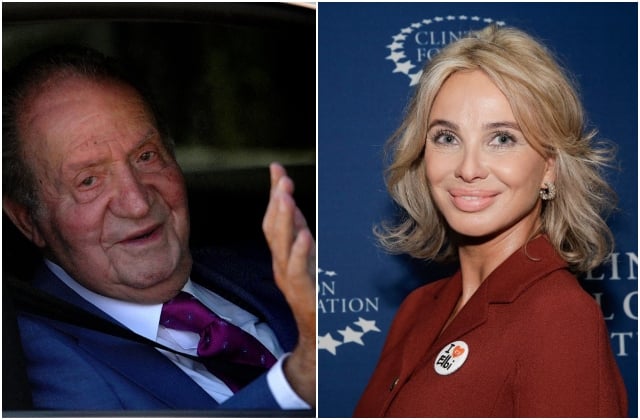 Corinna zu Sayn-Wittgenstein is a German-born businesswoman. She lives in England. And is 57 years of age.
The hearing in London comes as a result of fresh allegations about his conduct by British resident Corinna zu Sayn-Wittgenstein in a new podcast.
Juan Carlos is being accused of spying on and harassing Corinna after their relationship broke down in 2012.
Nevertheless former king Juan Carlos, who abdicated in 2014, denies the allegations.
However, former king Juan Carlos did not attend the hearing . And a ruling is expected in few weeks.
Meanwhile, Juan Carlos is appealing against a High Court decision in March, which rejected his claim that English courts had no jurisdiction over the case because he has state immunity as a Royal King.
"Whatever special status the defendant retained under the law and constitution of Spain, he was no longer a 'sovereign' or 'head of state' so as to entitle him to personal immunity," High Court judge Matthew Nicklin said at the time.
Moreover, former king Juan was allowed to challenge part of that ruling.
And his team of lawyers are making their case for immunity at the Court of Appeal London for the period before he abdicated in 2014. The year he was succeeded by his son Felipe VI.

Corrina zu Sayn-Wittgenstein filed the harassment case in 2020.
In the case, Corrina said the former king Juan who is married, had caused her "great mental pain" as a result of "a continuous and ongoing campaign of harassment" against her after their relationship ended.
Therefore, Corrina is seeking damages over claims that the former King forced her to return gifts worth €65m (£56m; $65m), as well as allegations of incessant break-ins and intimidations.
Corrina said it all started after their relationship ended following the couple's notorious hunting trip to Botswana in 2012.
According to the report, former king Juan Carlos broke his hip and had to be flown back to Spain.
This raised public anger amid a financial crisis and record unemployment figures in Spain.
It should be noted that former king Juan Carlos was attributed with overseeing Spain's transition from dictatorship to democracy in 1975.
But Juan left the throne in 2014 following a series of scandals involving his family.
The scandals included a corruption investigation involving his daughter's husband, Inaki Urdangarin, who was later sent to prison.
Above all, Juan Carlos has spent more than two years in self-imposed exile in the United Arab Emirates after leaving Spain over allegations of fraud that was eventually dropped.
The Swiss investigation into a multi-million dollar payment from Saudi Arabia was thrashed due to lack of evidence.
But the legal case was brought up again as new details emerge of the relationship between Spain's former monarch and his ex-lover in a podcast called Corinna and the King.
Sayn-Wittgenstein speaks openly about the corruption allegations surrounding Juan Carlos when he was still king. Corrina says Juan Carlos presided over a "court of miracles".
She alleges he would return from trips "happy as a five-year-old and there would be bags full of cash", which she alleges was "a very habitual situation".
She also said Juan Carlos once called up the owner of "a great chateau of Bordeaux wines" asking for some to be sent, and "the next thing you know, 20 cases of this priceless wine would arrive".
"His wish was everyone's command, and people were literally falling over backwards just to please him," she adds.
Former King Juan Carlos went to Spain earlier this year to visit his family. And also attended Queen Elizabeth II's state funeral at Westminster Abbey in London in September 2022.
The former king went with his estranged wife Queen Sofia.
See What Tanzanian President Did To Fisherman That Rescued Lake Victoria Plane Crash
Agony As Tanzania Plane Crashed Into Lake Victoria
More Problems For Kanye West As Balenciaga Removes Him As Ambassador, George Floyd's Baby Mama Files Lawsuit Against Him
Exposed ; Bianca Ojukwu Aborted Pregnancies For Fani Kayode – Kemi Olunloyo
Sources:
BBC