Following the deaths of 66 children in Gambia, the World Health Organization [WHO] has warned the world against taking four Indian cough and cold syrups.
WHO on early Wednesday warned against the use of these cough and cold syrups stating that they are potentially linked to acute kidney damage and deaths of 66 children in Gambia.
Nevertheless, these four unhealthy syrups are produced by Maiden Pharmaceuticals Limited India.
You May Like; Awawdeh Khalil: Details Of How Palestinian Detainee Survives 179 Days Hunger Strike
HOW KILLER INSTANT NOODLES DAMAGE YOUR HEALTH
According to the World Health Organization [WHO], all countries should look out for and remove the drugs from circulating round.
WHO recommends all countries detect and remove these products from circulation, the organization stated.
Meanwhile, out of the 23 samples tested by WHO, four samples were found to contain Diethylene Glycol/Ethylene Glycol as indicated.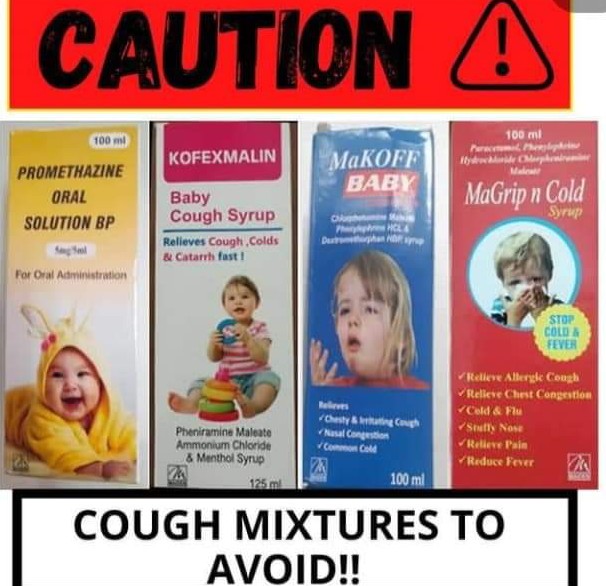 The deadly cough syrups includes;
Promethazine Oral Solution
Kofexmalin Baby Cough Syrup
Makoff Baby Cough Syrup
Magrip N Cold Syrup
It should be recalled that the Gambian government had last week reported a sudden rise in acute kidney damage in children.
Symptoms reported included abdominal pains, vomiting, diarrhoea, headache, etc.
Meanwhile, Indian government has started probing the Maiden Pharmaceutical Limited who are the manufacturers of the cough and cold syrups linked in the deaths of the Gambian kids.
World Health Organization is warning every country to look out for the deadly drugs and stop their circulation.
Sources: The Times Of India
African Peace/Development TV
Current Needs Facebook page
Protest In Iran Following Girl's Death, Mahsa Amini In Police Custody
Father Cries Out As Israeli Defense Forces Murders Son
Why Dozens Of Armenian Soldiers Killed In Border