Damien Tarel is the man who slapped the French President Emmanuel Macron. Damien Tarel is a 28 years old male.
The Frenchman, Damien Tarel attacked President Emmanuel Macron when the French president was shaking hands and greeting members of the public during a trip in France's Drome region.
However, ahas French court has immediately tried and found Damien Tarel guilty of assault and consequently, sentenced him to a four months in jail for slapping his president, Emmanuel Macron.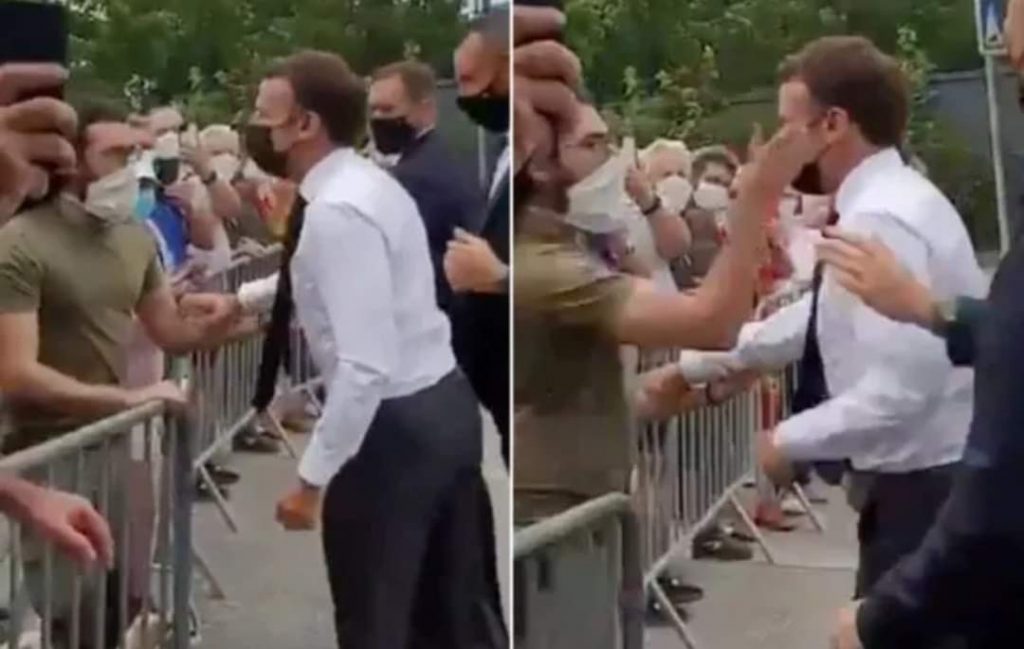 According to Damien Tarel, several days before President Emmanuel Macron's visit to the Drome region, he had thought about throwing an egg or a cream tart at the president. However, he said, slapping president Macron was not premeditated.
"I think that Macron represents very neatly the decay of our country," he told the court, according to BFM TV.
"If I had challenged Macron to a duel at sunrise, I doubt he would have responded."
He added that he was angered by Macron's "friendly" looks.
A local France Newspaper stated thus:
adsense
"The 28-year-old Frenchman who slapped President Emmanuel Macron in the face has been sentenced to four months in prison. And banned from holding a public office in France and will never own any weapon for five years".
Meanwhile, apart from Damien Tarel being banned from holding public office in France till the end of his life, and from owning weapons for five years, he would undergo serious psychiatric test and and will not appear in public for a stipulated period of time.
Notwithstanding, this incident which happened on Tuesday caught President Emmanuel Macron's left cheek with an audible thwack as the French leader was greeting a crowd.
But during Thursday's trial, Tarel testified that the attack was impulsive and unplanned, and prompted by anger at France's "decline."
Watch this video.
Damien Tarel is of the opinion that any President who dresses fine and feels very happy while his country is in shambles and the citizens suffering should be beaten up.
Read Also : Nigeria To Be Suspended And Dissolved Following Twitter Ban-Mike Ozekhome (Video)
28 Ways To Identify Individuals With Spiritual Problems And Solution (Video)
Unite Me With My People – Rich Man Cries Out