---
Education has been the bedrock of development and quality living .Any country that believes in quality development of her nation does not relent in paying attention to quality education of her citizens. This includes starting from the grassroots . Providing quality teaching and learning environment for both teachers and students, equipping the learning environment with necessary infrastructure, employing qualified teachers, supervision of the learning environment. Unfortunately, the above have never been the case in most educational sector especially in Nigeria.
A lot of learning environment in Nigeria, the giant of Africa , an oil-rich country with many other natural resources that are capable of sustaining the nation in all ramifications has been an eyesore and a disgrace to the nation.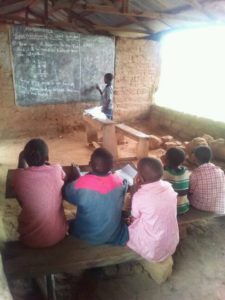 A PRIMARY SCHOOL IN GOHO, AKWANGA ,NASARAWA STATE.
Reportngr.com in its quest to find out what exactly is the reason  in the inability of many children hawking wares  in the  street during school hours led it to the discovery of gory sites and unbelievable facts in many Nigerian schools.
Osinachi Amadi, a twelve years old  sachet water  hawker found at Afor-Enyiogugu in Aboh Mbaise LGA of Imo State during school hours directed our crew to his school (Nguru Secondary Technical College, Ahiato) Mbaise.  Reportngr.com was surprised at the delapidating state of the  school. The road  leading to the school is nothing to write home about.  It took our crew the use of commercial motor cycle to pass the inaccessible long route to NSTC.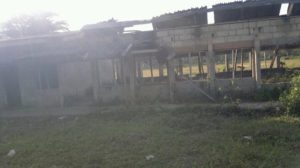 DILAPIDATED CLASSROOMSIN NGURU SECONDARY TECHNICAL COLLEGE MBAISE, IMO STATE.
Amadi told reportngr.com that  he has been out of  school to hawk sachet water in order to raise money for his daily transport, books and above all,  chair and locker as the previous one he had was stolen from the school.
Asked who stole his locker and chairs,  Amadi narrated how stealing of such items  has been the order of the day in the school that has delapidated classrooms with neither doors,windows nor roof. There is no laboratory or any presence of quality learning equipment in the school.
Another visit to a school in Obike Ngor Okpala Imo state has a similar story to tell. Mr  Ofoegbu Larry, an indigen told reportngr.com that their children have been frustrated studying under the environment. Many of them lost interest and abandon education.  Ofoegbu informed reportngr.com that recently one Mr Austin Njoku from Aboh Mbaise led his NGO to the school and opened a borehole, gave medical help and other support to the  school.  Saying that "Only this Mr Austin Njoku led NGO is the only support given to this school for nearly twenty years. That borehole has been serving this community . We don't see the  presence of government here." Mr Ofoegbu said.
Another trip to LGEA primary  school Goho, Akwanga, Nasarawa state revealed another gory site. Students were seen studying under a tree.  The few roofless houses there are "Accidents About To Happen" .
More than fifty schools visited across the nation have similar story to tell.  And one wonders how a child who is yet to know the benefits of education would be enticed to stay back in such environment. What will interest a child to make daily routine visit to such environment knowing fully well that he might encounter life threatening challenges in such venture? How will this child who has never been exposed to quality education be useful to the  society? How do one explain to this child that horror and hatred are not accepted in the  society?  And many unanswered questions.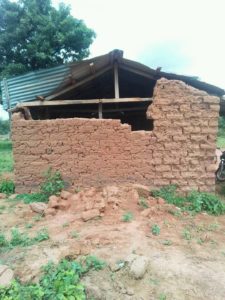 It is known  that quality  learning environment affects a child in the positive. A child exposed to friendly learning environment must remain friendly to the outside world. While a child exposed to dangerous learning environment will remain a  danger to the outside world.
The State and Federal Ministries of Education are therefore called to review the state of schools and learning  across the nation especially in the rural areas. And by this call, the nation is notified that the absence of quality education in the child is a contributory factor to the horrors unfolding in this nation.
Let "them"be caught young. Let "them" know that they are  accepted.
adsense