The Senate could not seat today Wednesday 28th day of April 2018 as the symbol of Authority was forcefully carried away from the National Assembly.
Reportngr.com gathered that  unidentified persons on Wednesday invaded the Senate Chambers and disrupted the ongoing proceedings.
The invaders snatched the mace and took it away.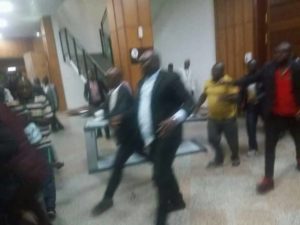 Reports said that the men are supporters of Senator Ovie Omo- Agege who was suspended last week.
However, there is heightened security at the National Assembly and the Senate has are expected to go into a closed-door session.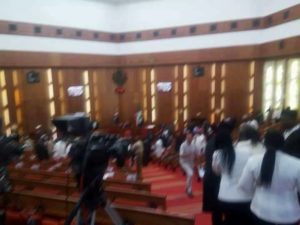 The Senate plenary was disrupted today after the invasion. This happened few seconds after a suspended senator Ovie Omo-Agege entered the chamber.
Reportngr.com gathered that about ten suspected thugs who came to the venue with the senator forced their way into the Senate Chamber. Seconds later, the thugs ran out with the mace from the chamber causing pandemonium in the Senate .
They left the National Assembly with the mace in black Suv. Heading to an undisclosed destination.
The mace is the  symbol of Authority of the parliament. A security personnel at the entrance of the National Assembly said that the thugs told him and his colleagues that they came with the senator.Hear him "We tried to stop them , but they told us that they were with Senator Omo-Agege"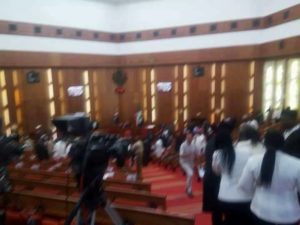 The senators have not reconvened as at the  time of filling this report.