PREAMBLE
          Yvonne Nelson speaks on baby daddy. Actress Yvonne  Nelson has  finally opened up on the rumours going round her. The rumour is that she has been dumped by Jamie Roberts, her white baby daddy. This was disclosed in her interview with the media. Yvonne Nelson speaks on rumours about her baby daddy.
WHO IS YVONNE NELSON?
Yvonne Nelson is a Ghanaian actress and also a movie producer. She had her secondary education at Aggrey Memorial AME Zion Senior  Secondary  School Ghana. However, she atended Central University College Ghana. Currently, she lives at Accra the capital of Ghana. She is an award winner and a beautiful actress. Her likes include Gabby Bernstein, Movie Now/Watch Hollywood in HD, and Nollywood TV. Recently,  Yvonne Nelson speaks on her baby daddy. 
INTERVIEW WITH PEACE FM GHANA
Yvonne Nelson was interviewed by Peace Fm Ghana on Thursday, 7th of  June 2018.Yvonne Nelson speaks on the rumour about her baby daddy to Kwasi Aboagye of Peace Fm Ghana. Kwasi Aboagye  had a thorough interview with Miss Nelson about the rumour surrounding her baby daddy. Moreover, Nelson was quoted as saying "I laughed when the publication first popped up on my  phone. I was never following Mr. Roberts so I  cannot fathom why some media guys will report that we two have unfollowed each other on the picture sharing social media platform. My baby daddy was one of my many followers on Instagram but not anymore".
Read also EVIL OF MODERN BEAUTY 
YVONNE AND JAMIE
          Besides, Yvonne stated thus "that Jamie unfollowed me  on instagram does not mean that our relationship has issues.  Nothing is wrong with my relationship with Jamie. Our pages are for business purposes and never  meant for relationship. I talk to Jamie Roberts every single day which tells that we are still having a good time together as partners. I am  disappointed over the rumours and those rumour mongers. I wonder why some people derive pleasure from bringing people down" she said.
YVONNE NELSON'S AND HER BABY
          Most importantly,  Miss Nelson gave birth to baby Ryn on the 29th of October 2017. Following the arrival of the baby, rumours had it that Yvonne baby daddy had abandoned her.  However, Ryn celebrated her first birthday on the 29th of October 2018 with baby daddy Jamie Roberts in attendance. Besides, at the birthday, former president John Agyekun Kufor of Ghana was the father of the day. Yvonne said "Today is an emotional day for me. My baby Ryn is one".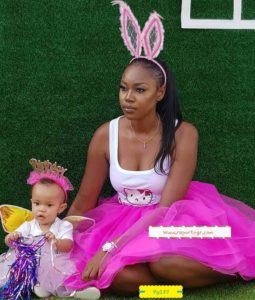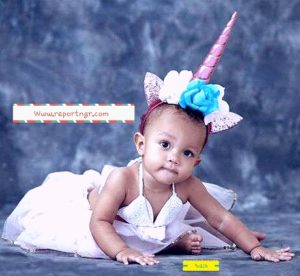 DIGNITARIES AT THE OCCASION
          Notwithstanding, many dignitaries attended baby Ryn birthday party. Among them are Ryn's daddy  (Jamie Roberts), actor John Dumelo, Yvonne  Okoro, Prince David Osei, Sammy Forson and many others.