For The Last 48 Hours, I Have Not Been Able To Reach IGP – Saraki♦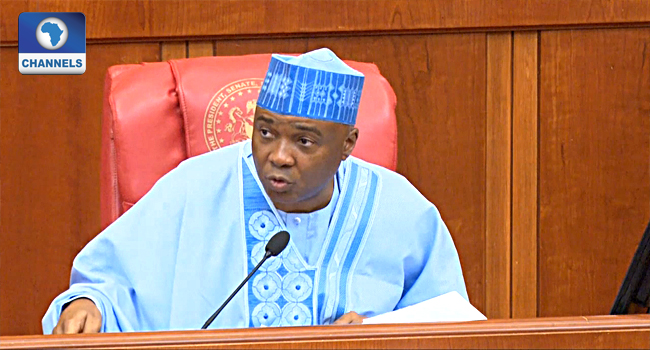 Senate President Bukola Saraki during plenary on Wednesday lamented at the attitude of the Inspector General of Police (IGP), Ibrahim Idris saying he hasn't been able to reach the IGP for the last 48hours.
Saraki said this after the Senate resolved to invite the IGP to brief the plenary over the recent killings in Benue, and the arrest of Senator Dino Melaye.
"Today, Senator Akume is not here because of what happened in Benue. I wanted to take the matter today so that he can be here today to take the issue. This is also about law and order and as such we must all condemn this action. This is not where we should be dispensing our energy on.
"It is important that the IGP… even me for the last 48 hours, I have not been able to reach the IGP. I have tried so many times to find out, what is the situation. I think that is not a disrespect to me as an individual, but to this institution," Saraki said.
He said further that collaboration with the legislature is essential to create enabling an environment for peace in the nation. He added that excesses from any quarters must be contained in the interest of Nigerians.
"These excesses must be contained in the interest of all of us. We are about to start elections and if these excesses of those who are meant to be responsible for providing law and order are not contained, it will be a great concern in this country. Therefore, those who are directly responsible need to take up that responsibility.
"We cannot talk about security without collaboration with the legislature. This kind of attitude must stop if we truly want to sustain and create enabling environment," Saraki said.
TheSenate subsequently adjourned plenary to visit their colleague, Dino Melaye who is currently on admission at the national hospital.
Saraki has led about 40 other senators on the visit. Nine of the Senators including the Saraki were allowed to see Melaye who is now in the Intensive Care Unit of the National Hospital.
The embattled Senator Dino Melaye according to a statement by police authorities on Tuesday jumped from the moving police vehicle which was conveying him to a court in Lokoja, Kogi State allegedly in a bid to escape from police custody.
Melaye was expected to be interrogated by the police in connection with the allegation that he armed some thugs and in relation to other criminal activities.
Culledfrom www.channelst.com