adsense
Hole in the heart baby: Man whose son had hole in the heart protested in the middle of the road Facebook source: picture by Lexy Mueka Source: Facebook
Recently, a man attracted the attention of kind-hearted Nigerians. He was seen sitting in the middle of the road carrying a little baby. The young man was spotted in front of the government house in Port Harcourt carrying a sick child identified as Beniah.
His son, Beniah has a hole in the heart. He was pleading with the River State government to come to his aid.
This attracted the attention of many Nigerians when the picture went viral. Nigerians were moved to the extent of donating over 70million naira for the little boy to undergo the corrective surgery abroad.
Beniah got this attention after his father was spotted sitting on the road side. This was a form of protest to get help from the government.
Unfortunately, little Beniah died at the early hours of Friday 15th February 2019. This was before he could be taken to the Dubai hospital for surgery.
It was a time of tears and sorrow in the family of the young man. He had already gained the attention of Nigerians after he was spotted in front of the government house in Rivers state. He was pleading for the government's intervention in his son's ill health.
Reportngr learnt that the man had reportedly written a letter to the Rivers state government asking for financial assistance. Moreover, did not get any positive reply.
The desperate father who was out to save his dying son decided to take action by going to the government house himself. However, he was reportedly dragged out by security men at the government house River State.
Beniah, had reportedly been born with hole in his heart and doctors had predicted that he had about 60 days to live.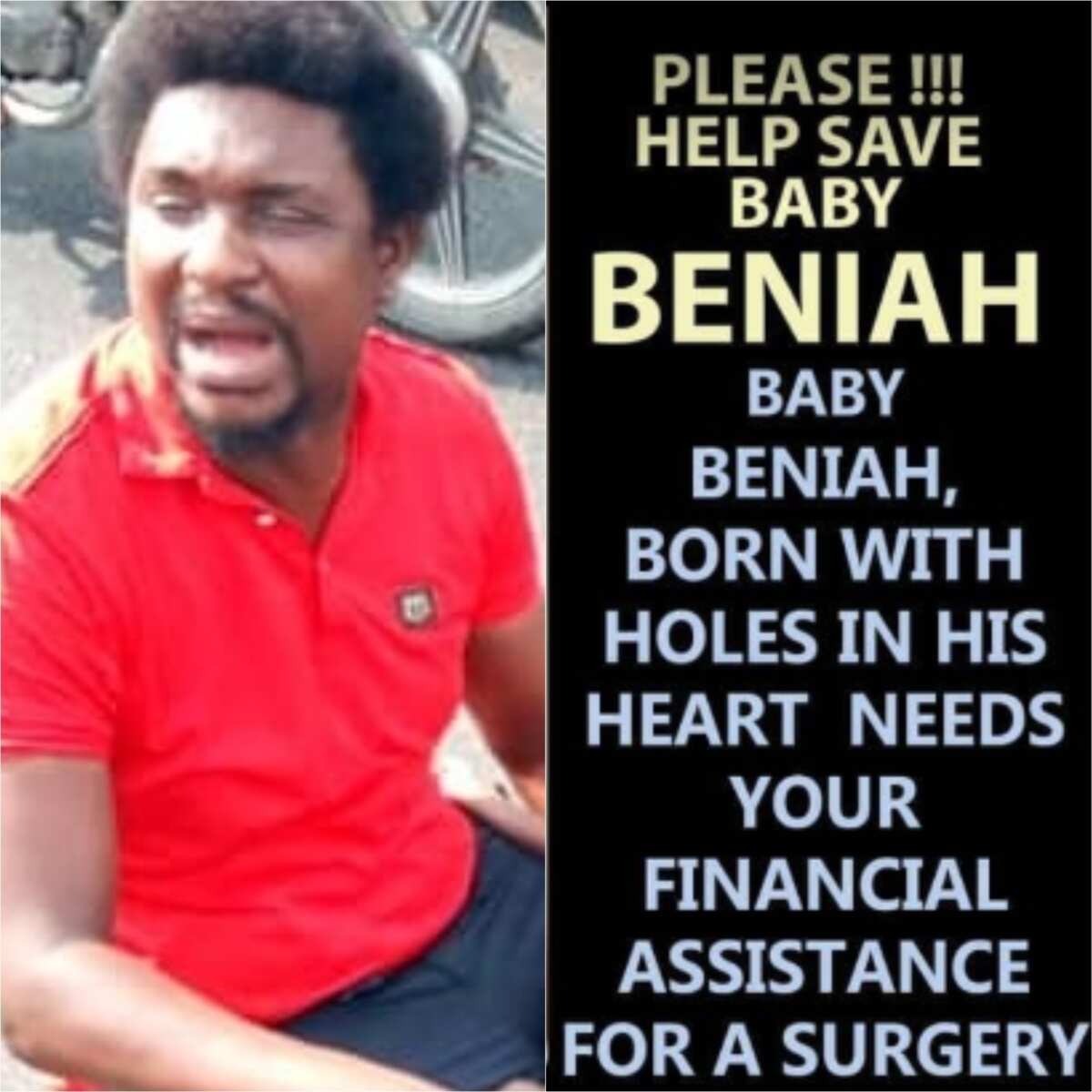 Nigerians were so touched by his pain. Therefore, several Nigerians donated money to enable him undergo surgery in a Dubai hospital.
The donations gotten were well over N70 million Naira. Meanwhile, many people were glad that he would get the much needed help.
However, according to an exclusive report gathered by reportngr.com, it was reported that little Beniah has passed on.
The sick child reportedly died before he could make it to Dubai for surgery. He was however rushed to Lagos University Teaching Hospital (LUTH) where he was confirmed dead.