Eggplant is an indigen of India. It was introduced to Europe the by the Arabs through the Iberian peninsula. Since then, it has been cultivated throughout the Mediterranean. Today, eggplants are cultivated all over the hot regions of the world.
Moreover, the main name of the Eggplant is Guinea squash. In France, it is called Aubergine, Spain calls it Berenjena, while the Germans also call it Aubergine.
However, the fruit of the Eggplant ('Solanum melongena) is an annual herbaceous plant. It belongs to the botanical family Solanaceae. A novice may mistake it to be the garden egg as there are striking resemblances between them.
Eggplants appear in different shapes and colours. They may be round, oval, elongated like banana, small as eggs or large like melons. The skin may be purple, green, yellow, reddish or white. Nevertheless, they have only one characteristics in common – the inner flesh (endoderm) and the seeds are whitish.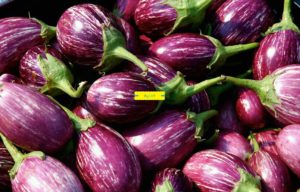 Read also: THE RED BEET, NATURE'S ANTI ANEAMIA
PROPERTIES OF EGGPLANT
The Eggplant is botanically a fruit. It contains a certain amount of carbohydrates, very little protein and no fat. But it has a small amount of minerals and vitamins. It has the following properties :
?DIURETIC: Eggplant increases urine production by stimulating the filtering capacity of the kidney. Consumption is advised in cases of Renal lithiasis or kidney stones. It is also advised in cases of edema or fluid retention, hypertension and cardiovascular diseases.
?DIGESTION: Eggplant promotes biliary function. It gently stimulates biliary discharge as well as production of pancreatic juice. It is advised in cases of slow digestion and biliary dyspepsia.
?LAXATIVE: Because of its vegetable fibre or cellulose content, it is a great laxative.
?CANCER PREVENTION: Research has shown that fruits from the family Solanaceae such as eggplants and tomatoes are very rich in phytochemicals. These phytochemicals protect the body against cancer formation.
PREPARATION AND USE
? COOKED: Eggplant should never be eaten raw. It can be fried, baked and seasoned with garlic. It digests easily when not eaten raw. When served with peppers, it forms a typical Catalan dish called Escalivada.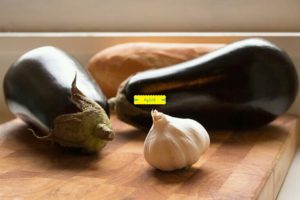 CAUTION
✋ It contains high amount of solanine. This substance almost disappear completely when the fruit is ripe. Solanine is a toxic alkaloid that produces digestive disturbances. Nevertheless, it disappears with cooking. Therefore, eggplant should be eaten when ripe and must be cooked!