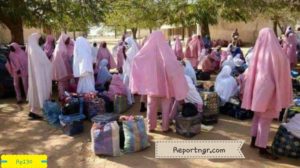 And I ask again,  "Where is Leah Sharibu?"
THE GIRL LEAH SHARIBU
Leah Sharibu is the fifteen years old daughter of Mr. and Mrs. Nathaniel Sharibu. She has two siblings. She is a native of Hong Local Government Area of Adamawa State.  Leah's father is a police officer and a member of Evangelical Church Winning All (ECWA) posted to Yobe State. He was transferred from Dapchi, headquarters of Bursari Local Government Area of Yobe State. Leah's father  was further posted to Taraba State. She was a student of Government Science and Technical College Dapchi.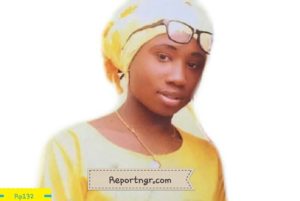 Nevertheless, Leah's father does not want to obstruct his children's academic calendar. Therefore, he relocated  to Taraba State alone. He left  his family behind in Dapchi. Occasionally, he visits Dapchi to fellowship with his family before returning to Taraba (his place of primary assignment).
LEAH SHARIBU'S  JOURNEY
On Monday, February 19, Boko Haram terrorists  invaded Government Science and Technical College, Dapchi. Over 110 schoolgirls were abducted.  Leah Sharibu was among the abducted students. Since that faithful Monday, all the  girls have been in captivity.
CALL FOR ACTION
Several calls and pressures have been mounted on the release of the school girls. These include BRING BACK OUR GIRLS GROUP, Non Governmental organisations, Freedom Fighters, Right Activists, International Community,  Individuals etc.
RETURN OF THE GIRLS
Boko Haram Terrorists were pressurised to release the girls. Following these pressures from the Federal government, Right Activists, etc, 104 Dapchi girls were released on 21st  March, 2018.  Leah, the only Christian among them was not released. Her fellow students said she refused to denounce Christianity. (The only reason why Leah was  not released). About two girls died in captivity. While three girls gained freedom earlier by escaping from Boko Haram.
Read also The Poor
CALL TO RELEASE LEAH SHARIBU
Several calls and voices have been raised to release Leah Sharibu. These include BRING BACK OUR GIRLS GROUP,  FREE LEAH SHARIBU NOW,   LEAH SHARIBU: HOPE ALIVE, LEAH SHARIBU FREEDOM PRAYER FORUM. Others include LEAH SHARIBU SOLIDARITY GROUP,  CAN,Non Governmental organisations, Freedom Fighters, Right Activists, International Community,  Individuals etc.
THE TRAUMATISED FAMILY
According to Leah Sharibu's father, Nathaniel Sharibu, up till now,  the family has not heard anything about Leah.  And no authority has told them anything about the whereabouts of Leah. "Till now I have not heard anything and no authority has told me anything about the whereabouts of Leah. Mr Sharibu stated thus  "Loved ones were calling to congratulate me that my daughter is on her way home. But uptill now,  I have not seen her. It's very sad; if we are going to celebrate the death and resurrection of Jesus Christ without Leah."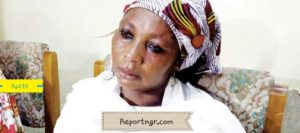 Fighting tears, he narrated how the rest of the family has been coping without Leah absence. "Leah who hopes to be a medical doctor in future has remained the lone captive of the Islamic insurgents. Because she did not  renounce her Christian faith and convert to Islam. My wife fainted and was rushed to a hospital when Leah's 104 school mates were returned without Leah.
Nevertheless,  Mr. Sharibu thanked everyone   praying fervently across the globe for his daughter's safe release.  And appealed to the Federal Government and Boko Haram  to please let Leah go and rejoin the family. He said  "I have nothing  to say now except that Leah is not yet back to join the  family. The trauma within the family  can only be imagined, especially as her school mates have been released to  their families,"
LEAH'S COURAGE
The Evangelical Church Winning All (ECWA), has hailed the courage, doggedness and faith of Leah Sharibu. As Leah is still in captivity because of her inability to recite the Quran.
ECWA REACTION
Public Relations Officer of ECWA, Rev. Romanus Ebebwokodi, in a recent statement, said: "We, in ECWA, are thankful that the Federal Government negotiated the release of all the abductees, including Leah. We are so happy that 104 of the girls  plus two other victims, have been released. They came back on  Wednesday, March 21, and are in safe hands.  However, we are very surprised and sad that the  abductors refused to release Leah Sharibu.  This is because she is a Christian and would not give up her Christian faith for her release. Leah is a member of ECWA in Dapchi. We call on the Federal Government and all its agencies to ensure the immediate release of Leah without any conditions. She is a law abiding Nigerian, who is at liberty to practise her Christian profession to the fullest".
"We condemn in strong terms, any attempt to forcefully convert anyone from one religion to another. As a church, we continue to pray for her release and  all abducted Nigerians," the ECWA statement added.
CAN REACTION
Rev. Bright Ogbansiegbe is the  acting Chairman of Christian Association of Nigeria  (CAN), Yobe State branch. He said that  there was so much joy  when word filtered into the community that Leah is back.  Moreover  when he called the girl's father he said he was yet to see his daughter. He stated  "I spoke with the office of the DSS.  I told them that whatever measure was used for the release of the 104 should be used for Leah.  Because keeping her further is a  serious breakdown of law. The Commissioner of Police called us to his office. I spoke with him, maybe he was trying to know our mind as CAN.
The police Commissioner further said that  he heard that there were underground plans that Christians want to protest. But I told him no.  We don't want to protest because our concern in Yobe is not to cause more problems.  The problem may spill over to other parts of the country. But let the  right thing  be done because the negotiation was done on behalf of all the abducted girls. So why is Leah an exception?"  "What is the problem with Leah? Because as far as I'm concerned, she's an equal citizen of this country. So she also has the same right the other children have," Rev. Ogbansiegbe who also doubles as CAN Secretary said.
According to him, "religion is not compulsory, there's no compulsion in religion. We can choose to be whatever we want to be.
Besides,  Nigeria is a secular state and not a religious state and that  should be respected. As I speak to you now, even the  National Youth (CAN) leader also went to Dapchi and I spoke with him. Uptill now, the girl has not still been released. She has not gotten to her family.
"I can't tell you how many times the mother of the girl fainted. Let's forget about what the man says on television. The  truth is, in the inside of these people, they are in serious trauma.
That trauma would have been  less when they were 110. However,  now that it  is only Leah in the mist of the terrorists,   I now look at how deep this trauma is.
"I'm still pleading and appealing with the government.  I don't want to know what was the arrangement for their release. What I care about is that we don't create a serious problem out of this thing.
Because if we Christians in Yobe are tolerant, what about those in Jos where there has been this recurrent religious crisis? What about areas like Taraba, Kaduna? I've been very careful.
"People call me from left and right. The #BringBackOurGirls forum and so many other platforms call me on this issue. I'm very careful on what I say not to trigger any part of the nation into violence. As a priest, I'm called to preach peace.
And I will maintain it till when I'm no longer able because there's an extent I can go. But I want to tell you that the family of this girl are in a serious trauma now. They are not finding it funny at all in all sincerity.
"The way politicians are talking about the thing, the IGP said he's coming. The next time, they said that the press misquoted him. I don't understand. That's human life they are playing with. this thing but what it will result to is unimaginable.
♦As far as I'm concerned, if anything happens now, it won't just be a soul. I don't want to know whatever narrative given to the whole incident, as far as I'm concerned, this lady should be released," the CAN acting Chairman further stated.