Last week, netizens and other social media users woke up to the news of a pathetic suicide note dropped by one Obonguwana Emmanuel David, A Professional Media Personnel.
Obonguwana Emmanuel David, a native of Afia Nsit in Akwa Ibom state of Nigeria has on Sunday 8th ay 2022 penned down a pathetic suicide note which went viral on the internet.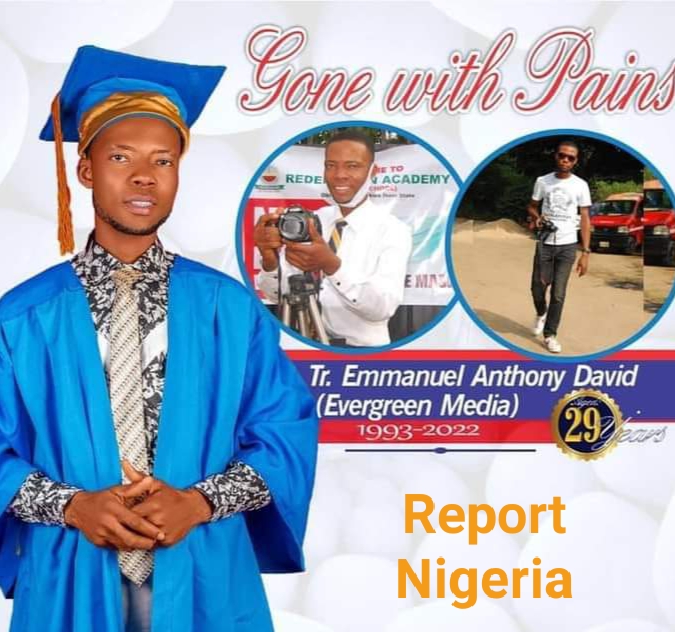 Read Also; A-Z Of 1996 Otokoto Ritual Imo State Nigeria: Eyewitness Account
In the note, Emmanuel had expressed a state of hopelessness owing to the loss of his "Treasure" which he said was stolen. While telling the robber to "enjoy the the earth to the fullest".
Below is the note:
While he is still alive, he dropped a message >>>ObongUwana Emmanuel David IF I PASS ON:
My funeral should take place a week after my death.
I wish to be wrapped in my blanket not casket.
My funeral should be covered and the video should be given to the security unit Redemption Academy (christian school), obio Etoi, uyo alongside my television. The video of the shameful burial should be played for one week so that he that cause my untimely death will have an opportunity to watch.

70,000 should be given to Engr. Blessing(his contact is in my phone).
20,000 should be given to bro. Effiong as a balance for the executive chair he is doing for me, then the furniture should be set in my father's sitting room as my legacy.
All my cameras and working tools should be given to my only brother which he will go for further training to continue from where i stop.
This poster should be printed and give the widest publicity using all my social media platform and a copy should be sent to demonstration primary school, afaha nsit.
My ATM and pin is in my blue jacket.
People owing me should follow their conscience and return the money to my mom….
Let him that stole my treasure enjoy the earth to the fullest.
However, as soon as the note went viral in social media, internet users flooded the page of Emmanuel in reaction to the note.
while many who understood that Obonguwana is still alive and yet to carry out his intention, those who did not read deeply to understand the note continued to pray the soul of the assumed deceased man to "Rest In Peace".
Meanwhile, Report Nigeria Facebook page was one of the various platforms that shared the information.
However, our effort to reach Mr. Emmanuel David yielded fruit when his brother who simply gave his name as Joseph reached out to our correspondent.
According to his brother, the hard working Emmanuel is a renowned media personnel who became depressed after someone stole his hard disk that contained over 2.5 million Naira work yet to be delivered.
Worried by the difficulty of paying his clients such an amount from the biting economy of the nation that is not kind to an average citizen, and considering the fact that the pressure from his clients may send horror into his life, Emma resorted to his decision.
Nevertheless, the Suicide note and the pressure from internet users did more good than harm.
One thing leading to the other, the robber returned the stolen disk. And the situation was saved.
In a follow up massage which he dropped after recovering the stolen item, Obunguwana stated thus:
ABOUT YESTERDAY'S NOTE:The Lord is still in action, investigations has been made, and the person behind the stolen disc has returned it. Am sorry for the stress and heart attack i've caused the whole world.

I declare that i will not die by accident or by any means, anything negative is not my portion now and always. Amen I am Evergreen media the surviving one#akwaibomphotographer#dronepilots#evergreen#youngentrepreneur#bellanaija#photographylover#blogger
Now, people who saw the last post of the media personnel are happy that at least his life is not lost as a result of his loss.
Today, Obonguwana Emmanuel David is alive and healthy. He has also moved on with his life and work since.
We also give gratitude to God for his life while thanking internet users for their massive pressure that led to the recovery of the item.
Read Also: Terrifying Secrets: 118 Years Old Small Man Found In Alaafin Of Oyo Palace (Video)
Journalist Samuel Wazizi Abducted, Detained, Totured To death While Telling Public He Was In Detention
Video: How To Use Alligator Pepper To Protect Yourself And Remove Negative Energy
adsense