adsense
Senator Dino Melaye has disclaimed a wedding invitation going round the internet.
Senator Dino Melaye, the senator representing Kogi West prayed for citizens of Nigeria this morning.
The wedding invitation was that of the senator and a lady simply named Susu.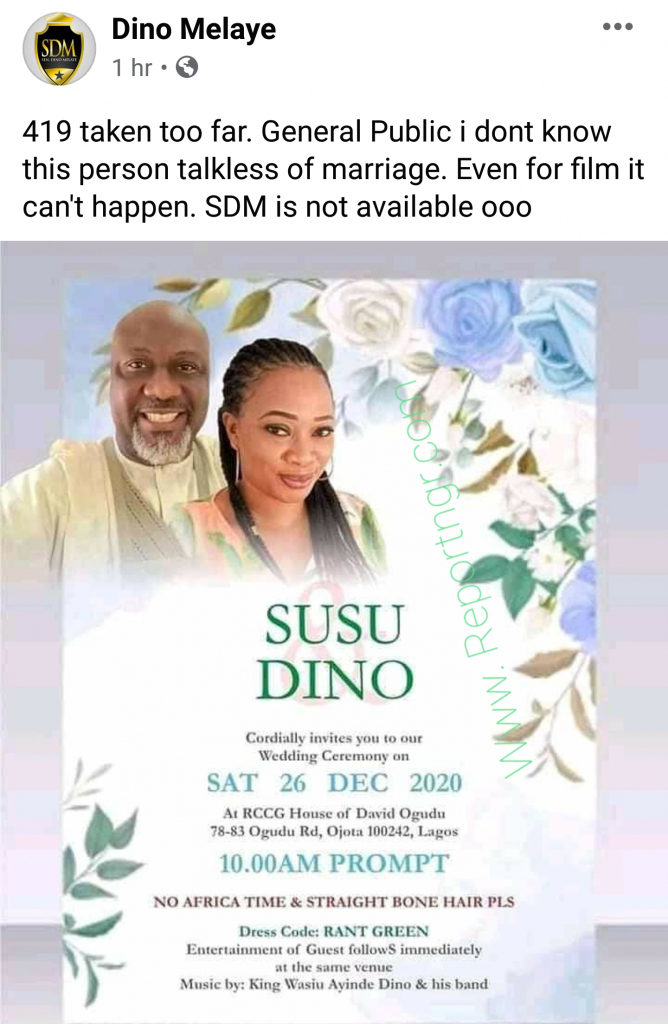 However, the invitation card was captioned "SUSU DINO".
And the wedding is scheduled to take place on Saturday, 26th December 2020 at RCCG House of David Ogudu 78-83 Ogudu Road Ojota Lagos.
In his reaction, the senator took to his Facebook page to disclaim the invitation.
The senator stated that he is not available and described the invitation as 419 taken too far.
HOW ODUMEJE SACKED ABIA CHIEF OF STAFF (VIDEO)
FALCON KILLED IN NIGERIA EVERYTHING ABOUT HOW AND WHY IT ENTERED NIGERIA
EX-IMO COMMISSIONER ARRAIGNED BY EFCC FOR FRAUD
Senator Dino Melaye stated thus:
419 taken too far. General Public i dont know this person talkless of marriage. Even for film it can't happen. SDM is not available ooo
However, no counter claim has been made by anyone about the senator's reaction.
Dino Melaye has on 14th of December 2020 advised Nigerians on the state of the nation.
He said:
Nigeria is on the Edge…who is in charge of Nigeria? Time for men of honour ( Religious leaders,Traditional rulers,Professional bodies,NLC & CSO's) to speak out. We are in perilious times. SDM