Head of the synagogue church, Prophet TB Joshua finally landed in South Sudan. This is after turning down seven invitations from the Sudanese president, Salva Kiir.
President Kiir has invited prophet TB Joshua seven times to minister and pray for his country. But TB Joshua turned down the invitations on the ground that he according to the directives of the Holy Spirit.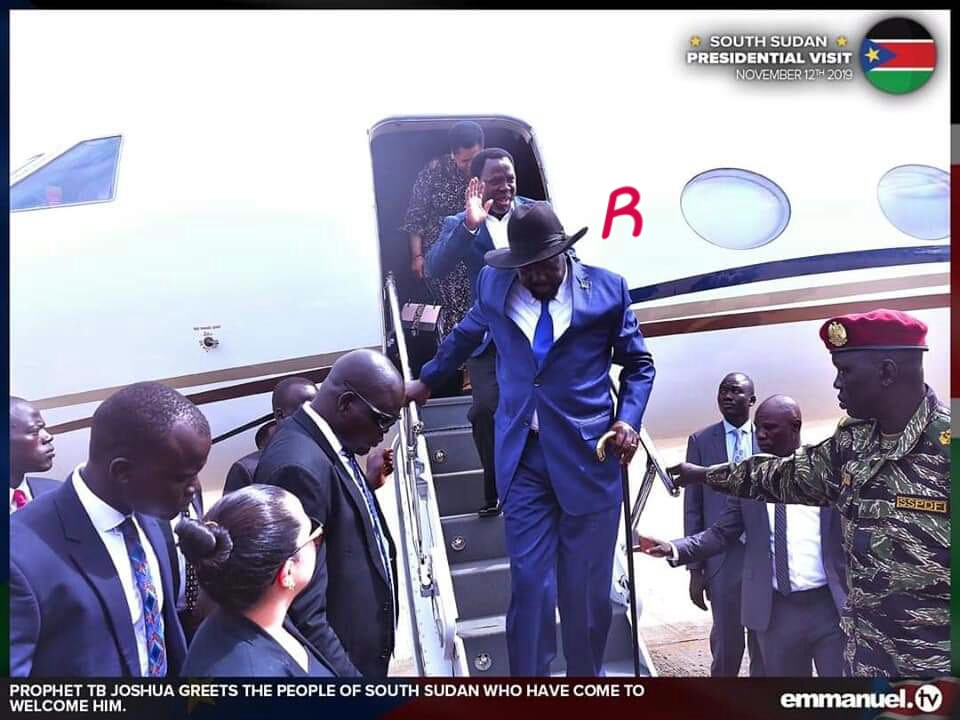 Therefore, by finally going to South Sudan could be an indication that God finally asked him to go.
President Salva Kiir himself said that for Prophet TB Joshua to step foot into his country is clear indication that God would use him not only to speak words of love and peace but for reconciliation which is what must follow peace.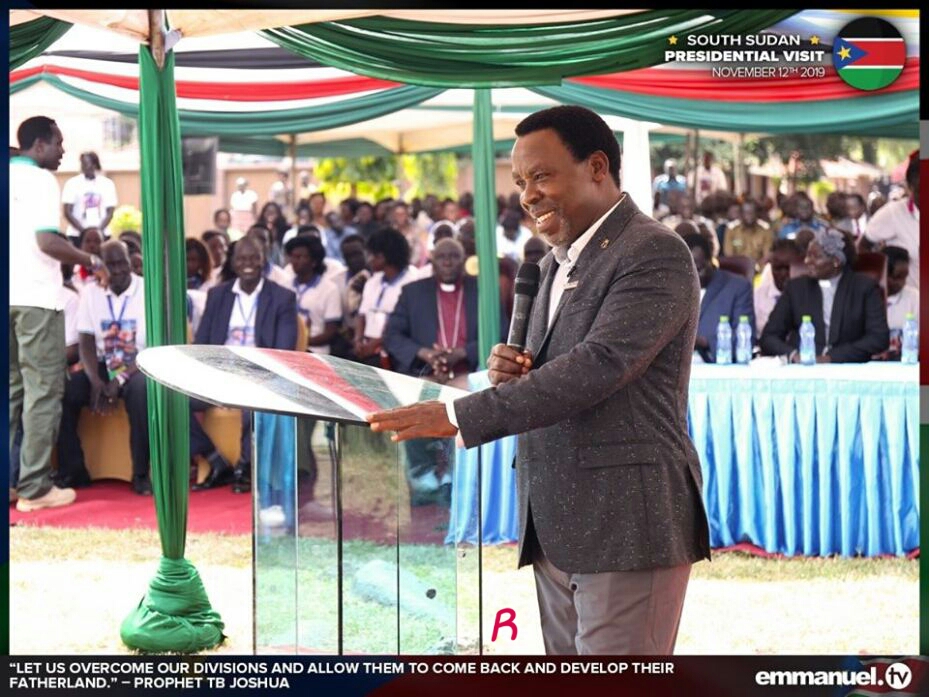 During a grand crusade, prophet TB Joshua preached about God's love and his readiness to forgive. He stressed the need for peace and reconciliation to reign in order to save more lives and to live according to God's will.

It shoud be noted that South Sudan after breaking from North Sudan has been in series of political turmoil. This has lead to thousands of deaths and displacement of her citizens.
Moreover this has been attributed to epileptic relationship between President Salva Kiir and one of rebel leaders Reik Marchal.
Marchal served as Vice President to Salva Kiir but was later sacked.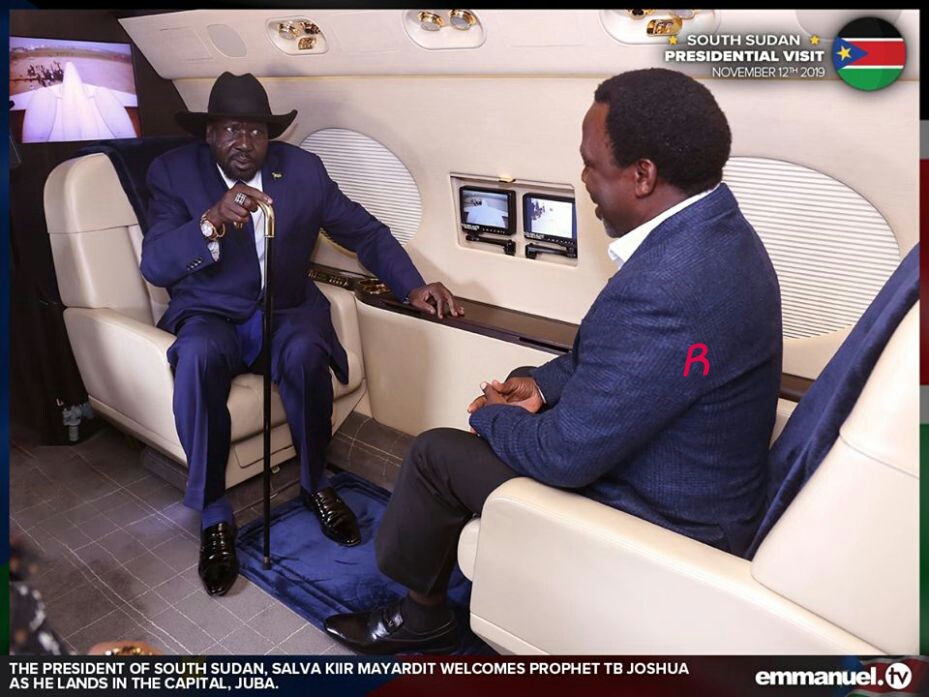 "PROPHETIC MESSAGE FOR SOUTH SUDAN – PROPHET TB JOSHUA
Thank you very much for welcoming me. He who honours a prophet because he is a prophet receives the reward of a prophet. Thank you for honouring me. I am here to deliver God's message. I pray that God gives all the political stakeholders in this country discretion that will guard their hearts to obey this message, in Jesus' name.
As a prophet, I need to be specific – that is, I should not say what God has not said. Yes, this is the voice of God. Time has come. Seven times, I have been invited to this country – but each time I received an invitation, I would ask God and the Lord would say, 'No'. But this time, the Lord said, 'Yes!'.
Time has come for us to put our differences behind us. Who can fight with the Lord? Time has come for us to put our differences behind us in this youngest nation in the world.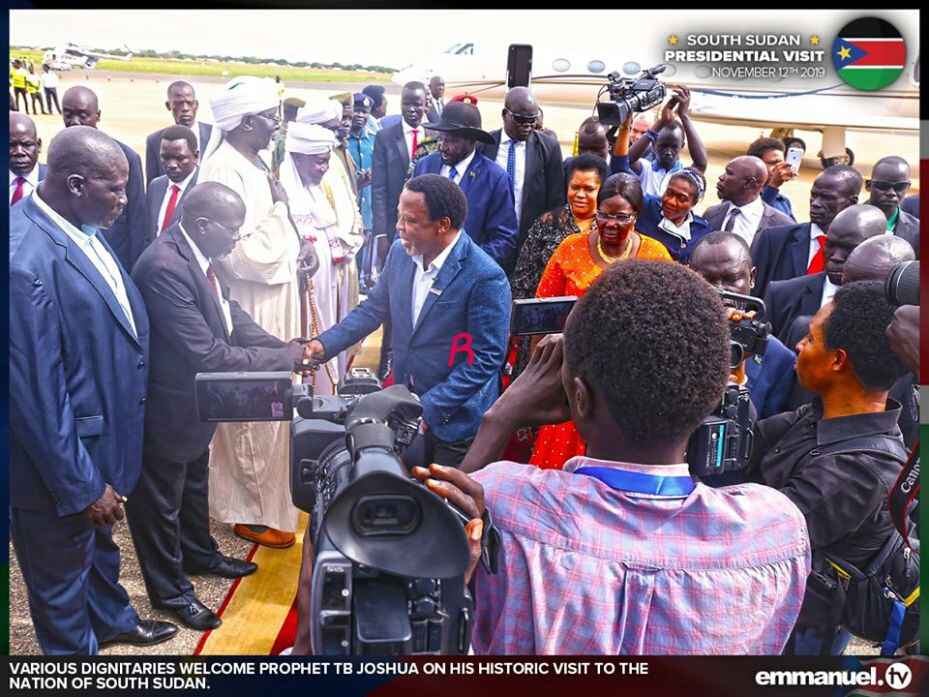 If I am a prophet, this will not go without fulfilment. Take your pen and write. I am here to prophesy to the nation. I am not coming here to preach or to teach. If I am a prophet, this will not go without fulfilment. Time has come. The issue of this nation is spiritual. We need to tackle it spiritually.
Time has come – I repeat – for us to put our differences behind us. Our leaders, we should overcome our divisions and agree to work together – for the good of this country.
Peace has no price. To show peace has no price, when I was preparing to come to South Sudan, my operator could not find an international insurance company to cover our trip to South Sudan – because of the situation of the nation. The operator recommended that the plane should be parked in Ethiopia or Kenya. I said why? They said because of the situation of the nation.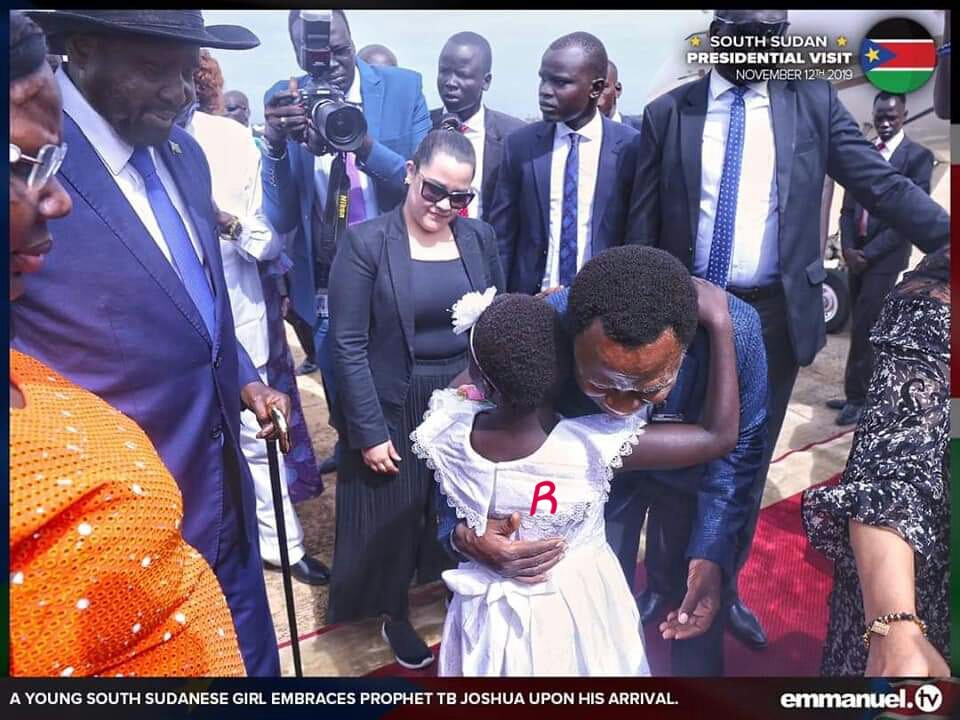 And this is a country endowed with enormous natural resources. How many investors or tourists would want to go through this?
We cannot do it alone. As I travelled the world, I have discovered that people from South Sudan are everywhere all over the world. There is no country in this world where you will not find South Sudanese. They are intelligent, hard-working, ambitious people. Our leaders should overcome their divisions and allow them to come back to develop their fatherland.
We should overcome our divisions. You cannot stand in the way of the Lord. He owns man's heart and He can instruct man at any time. Don't look at my appearance. Don't look at the clothes I put on; I had to wear something. Look beyond this appearance. Beyond this appearance is the man talking. Next month, we talk of December and then the New Year. This country is going to enter a New Year, a new beginning – whether you like it or not, whether I like it or not.
Your agreement does not matter to what God is about to do. So, after this meeting – take your time and look at my antecedents, my track record in the ministry when it comes to the prophetic. Please, take this word seriously. As a prophet, I am not an orator. I need corresponding power to talk. I need the suggestion of the Spirit to talk.
Let us pray as the Spirit directs. Lord, I pray for the peace of South Sudan. Have mercy on the nation! Have mercy on the nation! Let the leaders and citizens of South Sudan obtain Your mercy. Let the leaders and citizens of South Sudan obtain Your mercy. Thank You, Lord, for Your compassion and for Your forgiveness. In Jesus Christ's name.
This is the message and prayer I am sent to deliver. It may look short – but its pregnant. Let us await the result. If God says yes, no one can say no! I pray the hearts of those concerned are controlled by God because the Word of God cannot go without fulfilment.
I repeat again – time has come for us to overcome our divisions, for us to put aside our differences. There is no more time for you or us again; God wants to move the nation forward. Long live this peace initiative! Long live the youngest nation in the world, South Sudan! Thank you very much.* Address given by Prophet TB Joshua on Tuesday November 12th 2019 at the Presidential Palace in Juba, South Sudan, in the presence of President Salva Kiir Mayardit, a host of senior government officials and thousands of South Sudanese citizens.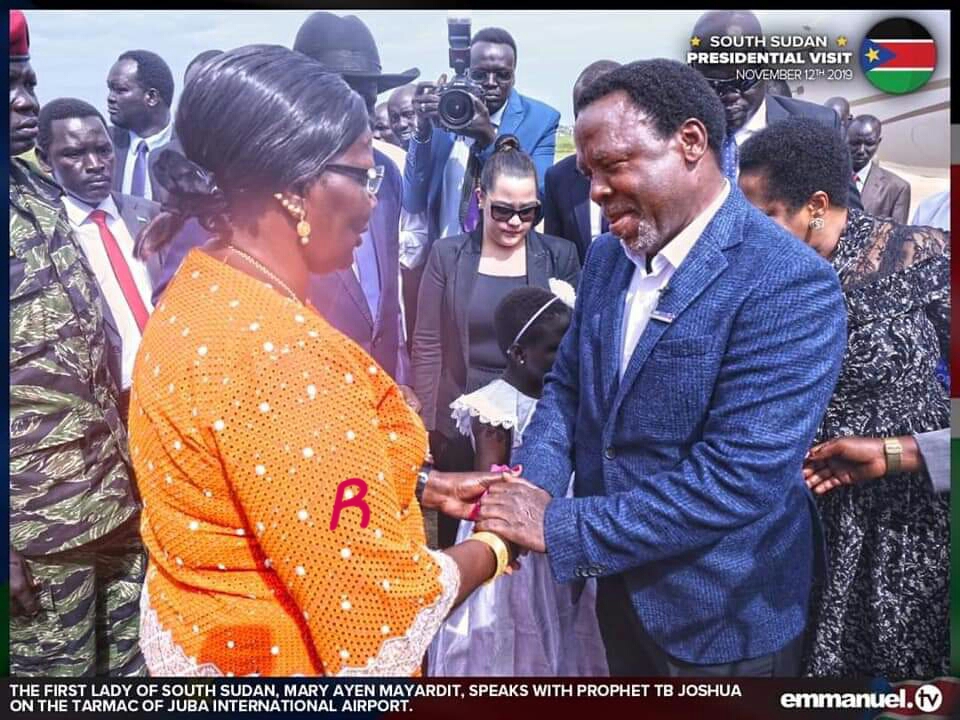 Read also ravaging-fire-threats-in-two-australian-states/
adsense