ATTACK TUNNEL INTO ISREAL DISCOVERED
Isreal Defence Forces (IDF) has discovered a fourth terror tunnel over the weekend. The tunnel is a cross-border attack tunnel from Lebanese territory into Isreal. Moreover, this is the fourth northern terror tunnel into Isreal discovered by IDF.This is stated in a post by a facebook user, Daren Nicholas to the group "I AM ISREAL".
Below is the post: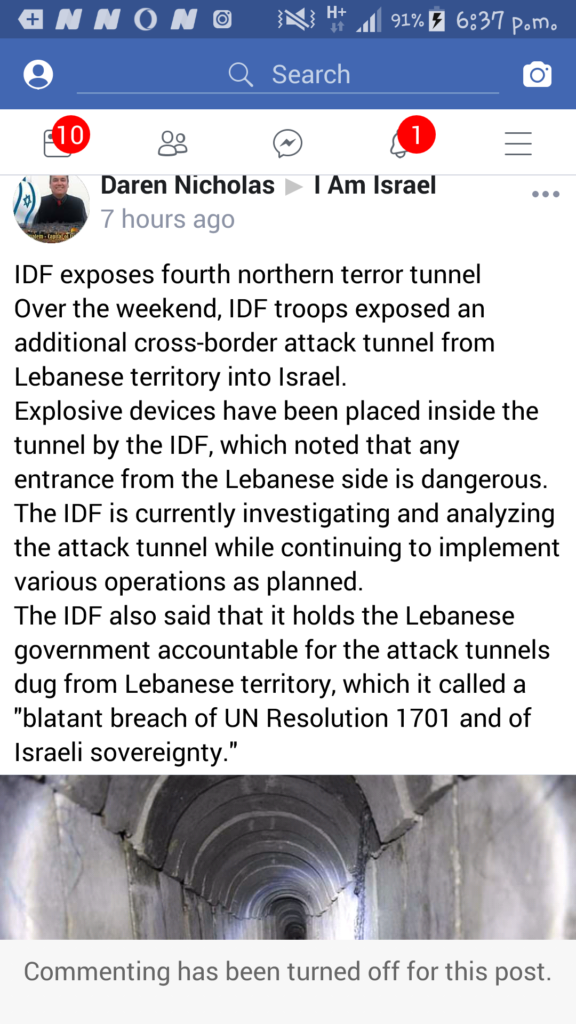 IDF INVESTIGATION AND SECURITY MEASURES
adsense
The IDF is currently investigating and analyzing the attack tunnel. Meanwhile, various planned operations are continously being implemented. Above all, IDF has placed Explosive Devices (ID) inside the tunnel. IDF noted that any entrance from Lebanese into Israel is dangerous. Their aim is nothing but to attack Isreal.
Read also: HowSaudi Arabia journalist was killed
LEBANON RESPONSIBLE FOR ATTACK TUNNEL
However, IDF is holding the Lebanese government responsible for the attack tunnel. This is because, the tunnel was dug from Lebanese territory into Isreal. Nevertheless, IDF called this a "ballant breach of UN Resolution 1701 and of Israeli sovereignty". The United Nation is yet to comment on this.
PEOPLE'S REACTIONS
Many people have condemned this Lebanese action. A lot of people have taýken to social media to express their anger and disappointment on the Lebanese nation. Some facebook users see it as a calculated attempt by some Islamic nations to wipe out Israel.
According to a facebook user, Evergreen Ezekiel, "The world can now see the desperation of these Islamic/terrorist nations to wipe out the nation of Israel. This tunnel like every other tunnel they dug must have cost them some billions of dollars. However, it may have taken them some good number of years…….". " … even all the entire human race. …..cannot annihilate the Jewish nation".
Read some of the people's comments below.