Nigerian lady identified as Naturize on Twitter, has revealed how ladies were defiled at Flavor's concert in Enugu, last night.
The twitter user who pleaded with artistes not to organise free show again, stated that over 20 ladies were raped in turns at the event.
She added that despite the presence of security agencies, the ridiculous acts still took place.
Read her post below;
"So your favourite celebrity decided to give back to the community, makes his concert free, but his fans(most) present at the square starts to rape girls like it's part of the script!
They not only Rape girls, but go in turns, protect the rapist from security agents and then start to play with the victims undies! Please someone tell me this is Sodom$Gomorrah !
Never seen or heard of Rape being this glorified, truth is if your community is filled with toxic people, don't live in denial, fix your problem even if it means not putting up a show, Yes please don't, more so don't make it worse!
Before you come here to ask what the girls wore?( which just shows your low IQ) Girls on jeans were RAPED! These boys came with X-Men claws, they ripped jeans like it was a wet piece of paper, still had the nerves to wear condoms, have an erect and rape a lady till she bled…
See ehn, No Artiste should ever have a free Show! The amount of fans that don't appreciate the efforts are the ones to traumatize ladies for life, and it's not worth it! NO F.O.C! What a systematic rape!
They had their Governor on seat, over 100 force men on standby, Bouncers were there too, but these retarded fools still found a way to leave girls naked, how do you rape a girl in front of her boyfriend? Are you normal? They beat and tossed boyfriends off!
They bought condoms! Aswear these guys are far from normal! To the men around me arguing about the wrong choice of clothes the girls wore, may your mothers in the village be raped while she's fully dressed to go for a meeting, fully clad up, after that I'll be here waiting!
Coal city with 80% of it's youth being stupid and mentally derailed, the ones that leave their rooms just to cause havoc! It's safe to say I'M NEVER GOING TO ENUGU STATE AGAIN! Never HEARD of this craziness in Lagos!
No free shows! if this show had 5k as the least ticket, these beast won't afford it! I'm literally shouting "No free shows again" some messed up fools! Apparently it's perceived as a norm! I kept hearing " E no new na, e happen for phynosfest" Walahi people are mad
People had to donate clothes to cover victims at intervals! It was that bad! Thought they said sex is cheap, so pls walk down the street and buy it cheap or take it free, don't rape girls, don't ever do it!
With the policemen on ground, the rape scenerio we witnessed helpless was over 20, and this was right beside the front of house, which is not far from the stage.
Arik I'm ready to leave this place, thanks but no thanks for having me! Happy Easter and remember Rape should never be justified!"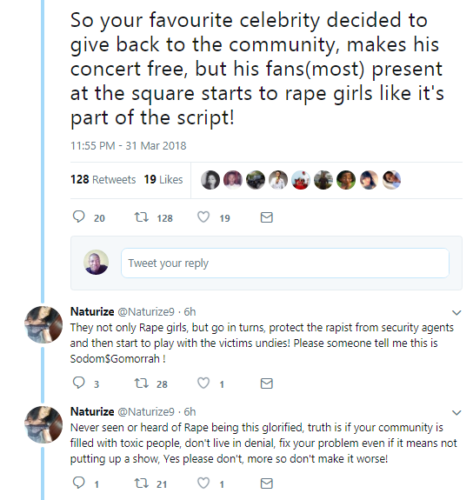 SOURCE : Gossip mill.
adsense