The Imo State Governor, Senator Hope Uzodimma has gradually become the darling of Imo State people contrary to expectations.
Uzodimma who entered the number one Imo State seat has been facing challenges from opposition groups.
Nevertheless, Senator Hope Uzodimma has remained focused despite criticism and battle.
Read Also: Atiku-congratulates-obaseki-for-joining-pdp/
Hushpuppi-is-the-worst-hacker-in-nigeria-efcc/
Naira-marley-may-likely-go-to-jail-because-of-this/
To the surprise of many, Governor Hope Uzodimma has never taken any negative action on critics who are openly attacking him despite having the power.
Rather he resorted to proving to Imolites that he is never near what some people are thinking of him.
A recent action of Hope Uzodimma has cancelled every bad impression about him by the Owerri traders.
One should bear in mind that any politician that won the loyalty of traders in Imo state has won 60% of Imolites. As Imo is made up of more than 60% traders.
HOW UZODIMMA WON TRADERS
On the 13th of May 2020, Governor Hope Uzodimma unexpectedly ended the suffering of Old Stadium Lane Forum. By giving them back their shops demolished by the government of Owele Rochas Okorocha.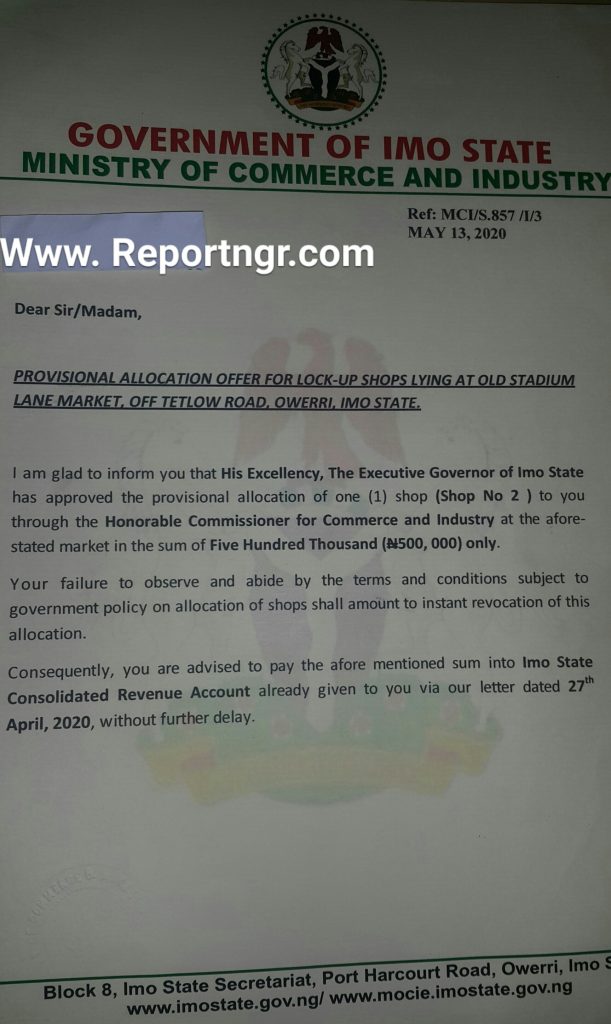 It should be recalled that the Stadium lane plaza was the gigantic plaza round the Old Stadium by Tetlow Road Owerri Imo State of Nigeria.
The shops were bought from the Imo State government by the traders during the Achike Udenwa regime.
Reportngr.com learnt that individuals bought each shop with 3.5 million Naira and above as lifetime leverages as far back as early 2000.
The then allocation papers giving to them were signed by Chief (Barr.) Chukwuma Ekomaru, KSC who was the then Honorable Commissioner for Youth and Sports.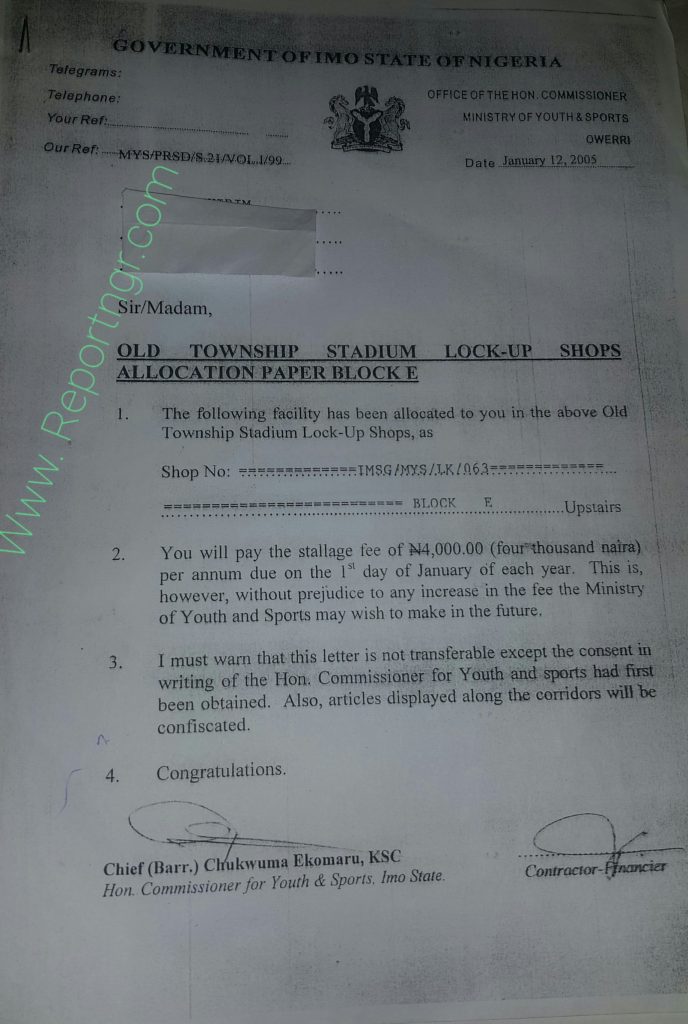 Nevertheless, the shops were demolished by Owele Rochas Okorocha on the promise of renovating them for owners. But shortly after, Owele Rochas Okorocha left office and handed over to Hon. Emeka Ihedioha.
The traders swiftly went to the government of Hon. Emeka Ihedioha to rescue them. According to them, Hon. Ihedioha ordered for verification of their allocation papers. This was done immediately.
And Ihedioha returned back the shops to them with the promise of rebuilding them by the beginning of March 2020. But Ihedioha did not make it back from Supreme court.
However, the traders went with tears to the government of Governor Hope Uzodimma through the Artoney General and commissioner for Justice and tabled their predicament.
According to the traders, a journey they started since 2017 was ended under two months by Governor Hope Uzodimma.
Allocation papers were reissued to them. The traders numbering about 121 were splited into Batch A and Batch B.
The Batch A was asked to occupy the existing building already built by Owele Rochas Okorocha. While the Batch B was told to hold on for the next building (which is already in construction) to be completed.
Traders were seen jubilating and praising Senator Hope Uzodimma.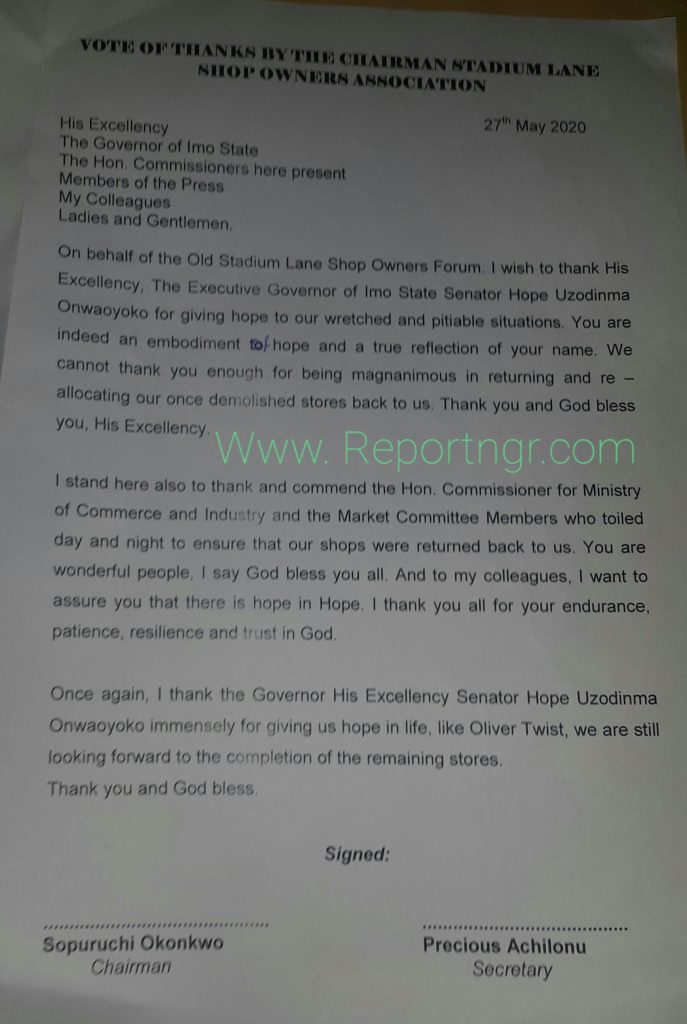 According to a trader simply identified as Ngozi, Senator Uzodimma is really the Hope of Ndi Imo". Hear her:
We have been outside selling under umbrellas since 2017 after our shops were demolished. Majority of us have died. While many were forced to go back to their villages with no source of income. It has been hell for us. We have been prey to touts and thieves.

Rain and sun hit us daily.

Our daily sells have never been enough for supporting our families. Our suffering is better imagined than witnessed.

But to the Glory of God, Senator Hope Uzodimma has wiped out our tears today.

You see, when God give you something, never complain, it is for a purpose.

Honestly, God gave senator Hope Uzodimma to Ndi Imo. I have never seen a governor who listens to poor people like Governor Hope Uzodimma does.

He is truly the Hope of the hopeless. A father to the poor. And he works with the fear of God. Honestly, Governor Hope Uzodimma is a very good father.

I can't see him to thank him. That is why I want you to tell him that all the poor traders at stadium lane are behind him. We are expecting a day we will see him to express our gratitude.

Chineke Gozie gi Onwa Ndi Imo.

she concluded.
Other members of the forum were not left without praises to the governor. Our reporter was unable to calm the people who were shouting "Hope Anyi, Onwa Imo. Hope Anyi, Onwa Imo" .
We at Reportngr.com are joining the Stadium Lane Forum to wish Governor Hope Uzodimma many more positive achievements in Imo state. Well done The people's governor.