Staff of the Nigeria Immigration Training School Orlu, (NITSOL), Imo State recently received quality training.
The training which was termed " TRAINING OF TRAINERS" was conducted by GIZ POLICE PROGRAMME AFRICA.
GIZ POLICE PROGRAMME AFRICA was attracted to Nigeria by the Comptroller General Of Immigration, Mohammed Babandede.
The aim of the programme is to equip staff of Immigration Training Schools with higher knowledge of Immigration Services. Which they will transfer to immigration students on course in various training programmes.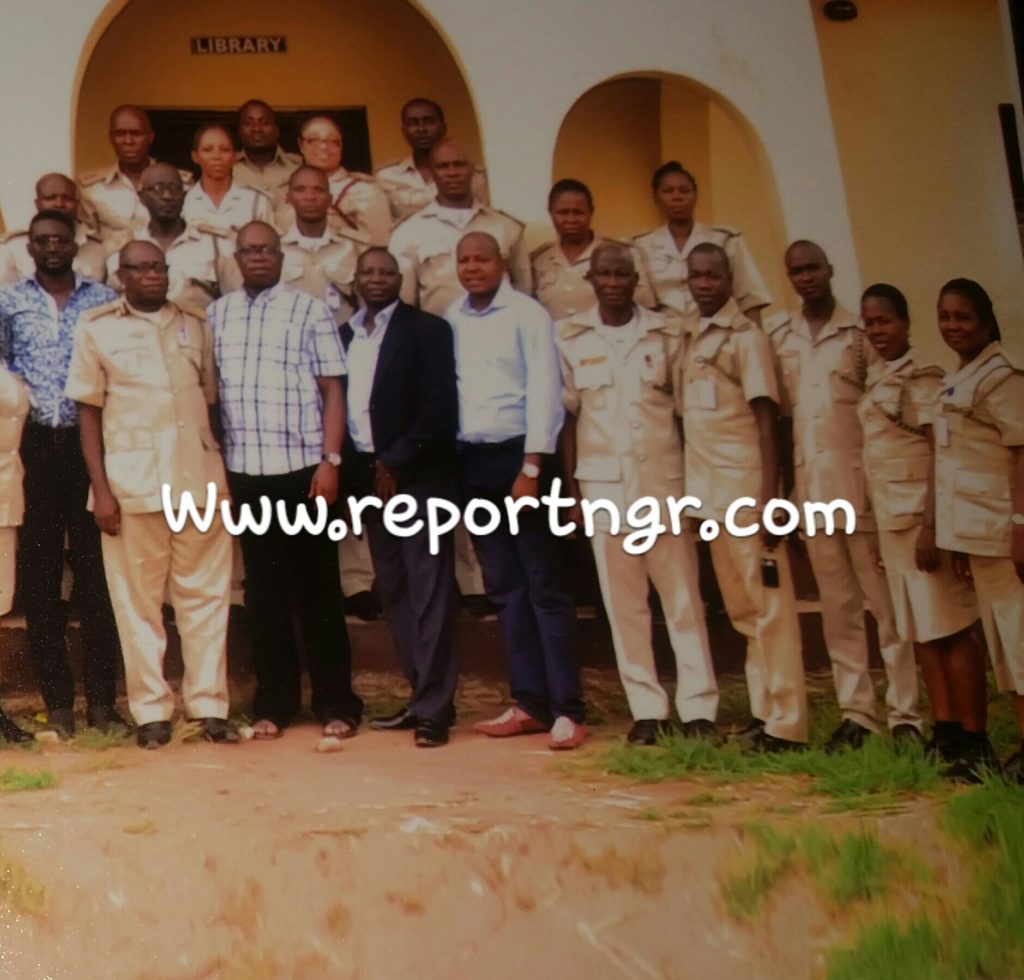 Reportngr.com learnt that Immigration is bent on getting every officer and men of their Service properly trained.
Thereby making every immigration officer a "Master" in the field of Immigration services.
However, this will enable trained staff be in the position to train immigration officers and men who are undergoing trainings in Immigration Training School.
Staff received training on every aspect of Immigration duties. Ranging from Overview Of Nigeria Immigration Services to Smuggling Of Migrants, Trafficking In Persons (TIP) and Enforcement.
Most importantly, A to Z of Immigration work was taught to staff. This will enable them to transfer the knowledge to every immigration officer on training.
Some of the trained trainers of immigration training school orlu with the GIZ PERSONNELS
Among the GIZ POLICE PROGRAMME AFRICA Resource Persons were Dr. Eselebor of the University Of Ibadan. And Jolayemi Stephen of Astowise Limited.
The TRAINED TRAINERS include the Acting Commandant of NITSOL, DCI A. Achilonu, Staff Officer CSI Okwuosa.
adsense
Others are the Dean of Discipline, CSI Anaele, CSI Ohiri, CSI Onuoha, ACI Dr. Ogbonna, ASI" Iroakasi among others.
The training lasted for one week.
Meanwhile, a follow up training tagged RAPID RESPONSE SQUAD TRAINING (RRST) is currently ongoing at NITSOL.
RAPID RESPONSE SQUAD TRAINING is to equip officers for quick intervention in emergencies and great need.
All these immigration trainings at NITSOL and other training schools are similar to the trainings immigration officers undergo in developed countries.
See more pictures below
Some of the trained trainers of immigration training school orlu with the GIZ PERSONNELS