Adekunle Gold is a Nigerian musician. He has won a lot of awards. Recently, he became the cover star for the February 2018 issue of Genevieve Magazine. The special edition marks their 15th anniversary. However,  for the cover image, Adekunle Gold was photographed by Emmanuel Arewa of @spotlightpi.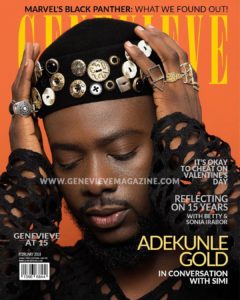 Adekunle Gold was interviewed by close friend and collaborator Simi.
Also, other artists were featured in the  magazine.  They  include  Adebayo Oke-Lawal, Adunni Ade, Zainab Balogun, Idia Aisien, Bidemi Zakariyau, Adanna of AdannaDavid, Rachel Kerr and more.
Genevieve Magazine also got some behind-the-scenes info on the highly anticipated movie, Black Panther. The Black Panther was from Nigerian-American-British actress Sope. Alukopatented Kubrick stare 
Recently,  Adekunle Gold recalled  the most painful love experience he has had to grapple with. This was disclosed  in a chat with Showtime.  The 'Pick Up' crooner said he was heartbroken when he discovered that his ex- lover had another lover. Even  while she was also in a relationship with him.
Adekunle's most painful love experience would be dating a girl that had a boyfriend and he did not know. It's actually the reason he wrote 'Nurse Alabere', in his new album.
Nevertheless, Adekunle is quite unlike some men who would resort to playing games after such a heart-rending experience. Adekunle Gold has found love again.  And most importantly, he is proud to affirm that she is the very understanding type. Besides,  she  has found a way to cope with Adekunle Gold's celebrity status. "Yes I have a girlfriend and she is the understanding type", he said.
          Adekunle Gold is a Nigerian musician. He has won a lot of awards. Recently, he became the cover star for the February 2018 issue of Genevieve Magazine. The special edition marks their 15th anniversary. However,  for the cover image, Adekunle Gold was photographed by Emmanuel Arewa of @spotlightpi
adsense
Source: vanguardngr.com